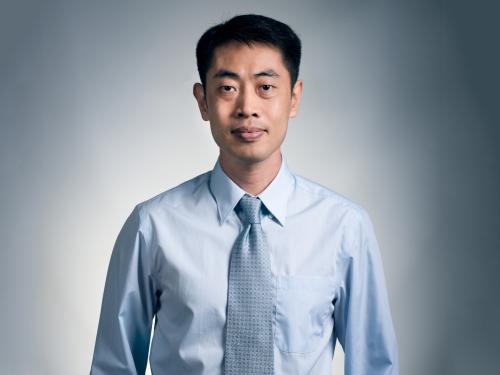 Research Interests
◆3D chromosome organization
◆Gene Transcriptional Regulation
◆Hematopoietic Stem Cell Differentiation
Professional Experience
◆ 2013 – present Associate Professor, Department of Biology, Southern University of Science and Technology of China
◆ Dec 2009 – Aug 2013 Postdoctoral fellow,Advisor: Dr. Victor G. Corces (HHMI professor),Department of Biology, Emory University,Atlanta, Georgia, USA
◆ Dec 2004 – Nov 2009 visiting fellow,(Award: 2007 Fellow Awards for Research Excellence, NIH),Advisor: Dr. Ann Dean,Laboratory of Cellular and Developmental Biology
National Institute of Diabetes and Digestive and Kidney DiseasesNational Institutes of Health ,Bethesda, Maryland, USA
Educational Background
◆ Sep 1997 – Jul 2004 Ph.D. , Molecular and Cellular Biology, Mentor: Dr. Ruo-Lan Qian ,State Key Laboratory of Molecular Biology,Shanghai Institute of Biochemistry and Cell Biology
Chinese Academy of Sciences,Shanghai, China
◆ Sep1993 – Jul 1997,B.S., Microbiology and Microbial Engineering,School of Life Sciences, Fudan University,Shanghai, China
Representative Publications
1. Li Li#, XiaowenLyu#, Chunhui Hou#, Naomi Takenaka, Huy Q. Nguyen, Chin-Tong Ong, CaelinCubenas-Potts, Ming Hu, Elissa P. Lei, Giovanni Bosco, Zhaohui S. Qin, and Victor G. Corces*. Widespread Rearrangement of 3D Chromatin Organization Underlies Polycomb-mediated Stress-induced Silencing. Mol Cell. 2015 April 16, 58. (#co-first author)
2. Hou C#, Li L#, Qin ZS*, Corces VG*. Gene density, transcription, and insulators contribute to the partition of the Drosophila genome into physical domains. Mol Cell. 2012 Nov 9;48(3):471-84.(#co-first author)
3. Hou, C.H., Dale, R. and Dean, A. Cell type specificity of chromatin organization mediated by CTCF and cohesin. PNAS, 107 (8): 3651-3656, 2010
4. Hou, C.H., Zhao, H., Tanimoto, K. and Dean, A. CTCF-dependent enhancer blocking by alternative chromatin loop formation. PNAS, 105 (51): 20398-20403, 2008.