Research Assistant Professor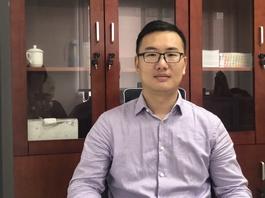 Education:
2015 University of Montreal Ph.D.
2007 Northwestern Polytechnical University, M. Sc.
2004 Northwestern Polytechnical University, B. Sc.
Work Experience:
2018-now Southern University of Science and Technology, Academy for Advanced Interdisciplinary Studies, Research Assistant Professor.
2017-2018, EnvisionTec, Senior Chemist.
2015-2017, Southwest Petroleum University, Assistant/Associate Professor.
Research Area:
High-performance fiber precursor/high-throughput preparation, Polymer/materials genome studies.
Publication:
X. Wang, J. Vapaavuori, X. Wang, R. G. Sabat, C. Pellerin, C. G. Bazuin, Influence of Supramolecular Interaction Type on Photoresponsive Azopolymer Complexes: A Surface Relief Grating Formation Study, Macromolecules, 49, 4923-4934 (2016).
X. Wang, J. Vapaavuori, Y. Zhao, C. G. Bazuin, A Supramolecular Approach to Photoresponsive Thermo/Solvoplastic Block Copolymer Elastomers, Macromolecules, 47, 7099-7108 (2014).
X. Wang, C. G. Bazuin, Tailoring Supramolecular Ionic Azo Triblock Copolymers by Partial Quaternization and Complexation, Polymer, 128, 330-337 (2017).
Q. Zhang, X. Wang, C. J. Barrett, C. G. Bazuin, Spacer-Free Ionic Dye-Polyelectrolyte Complexes: Influence of Molecular Structure on Liquid Crystal Order and Photoinduced Motion, Chem. Mater. 21, 3216-3227 (2009).
B. Niu, X. Wang, K. Wu, X. He, R. Zhang, Mesoporous Titanium Dioxide: Synthesis and Applications in Photocatalysis, Energy and Biology, Materials, 11, 1910 1-23 (2018).