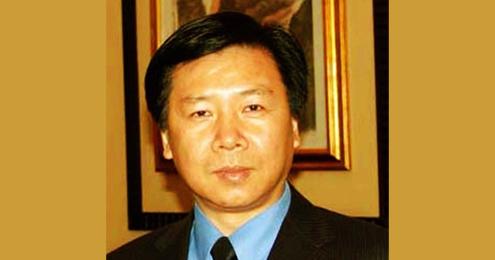 Research Fields: Ideological and Political, Art History, Civilization History
Courses offered:
First, "Ideological and Moral Cultivation and Legal Basis" (compulsory courses throughout the school).
Second, "The Course of Aesthetics" (Tsinghua University Quality Core Course),
Has won: Beijing outstanding teacher title
Tsinghua University title of advanced workers
Tsinghua University Teaching First Prize
Tsinghua University teaches advanced personal titles
Teaching Achievements: Published "The motherland of the motherland, proud of us! Henan Publishing House
"Our ideal is communism" Central Literature Publishing House
"Tsinghua students talk about ideals" People's Publishing House
Scientific research achievements: The Central Propaganda Department instructed CCTV to film the "Aesthetic Course" 13 lecturers.
The keynote speaker of the "National Quality Course" of the Ministry of Education.
The lecturer of the 17th lecture on the "Video Open Course" of the Ministry of Education's excellent class.
The special feature film of the Art and Civilization Department of the Propaganda Department of the Beijing Municipal Committee.
The keynote speaker of the Central Party School's "Seeking Truth" Network "The Only Way to Historical Development"
Academic monographs: "Aesthetic, Modern, Postmodern Critique", "Aesthetic Process".
Ideological and political research: "Talk about the teaching method of "feeling people with beauty, moving people with emotions, and convincing people with reason" (national core journal "Ideological and Theoretical Education Guide"). "Exploration and Practice of Teaching Material System to Teaching System and Knowledge System to Belief System" (National Core Publication "Ideological Education Research").
Literary and Art Criticism: The publication of literary criticism articles in the publications such as People's Daily, Fine Arts, Literature and Art, and Cultural Newspaper was valued by the General Secretary of the Central Committee, the Central Propaganda Department, and the Ministry of Culture, and made necessary to curb the spread of vulgar culture. Contribution.
Social activities: The large-scale ideal lecture "The Only Way" was invited to the Ministry of National Security, the Ministry of Land and Resources, the former General Manager, the General Administration, the General Assembly, the General Administration and Colleges, the Armed Police Command Academy, the School of Modern International Relations, Renmin University, etc. Dozens of institutions and colleges preached and were very popular.